When you will start looking for classic party rentals in Orange County you would have to handle some important steps before you can head out to find the right party rental for your event. Let us suppose that it is your child's tenth birthday and you are planning to invite his or her friends over to your house. The first thing that you have to do is to decide the theme of your birthday party and then find items that go with it.  We know how tiring it can be to head to the hypermarket to find paper plates and cups and décor that go with a common theme. Imagine who ridiculous it would look if you have a superman themed birthday party with hello kitty cups because you could not find superman paper cups at the right time.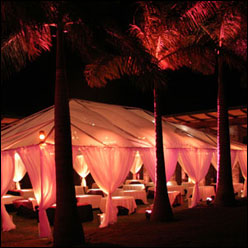 BeDazzle My Events Provides the best Classic Party Rentals
To avoid such a disaster you should contact BeDazzle My Events to get the best classic party rentals in Orange County. The main advantage of getting a party rental is that you can obtain all that you require without having to go into the market to search for it yourself. This will save countless minutes of your time when you will find everything that goes with any theme that you name. All you would need to do once you consult a classic party rental in Orange County is to finalize the theme for your party. That once done, you will have no difficulty in finding the right items for your party.
Now you should list down all the things that you will need. What do you want to get, other than plates and cups? Do you want a jumping castle? Are you planning to call a magician? Do you need a stage for all the performances? Do you want to get chairs and table clothes that go with the theme? You will be able to organize the best party with everything that you want with BeDazzle My Events.
Another detail that you need to finalize before you get classic party rental in Orange County, is the time of the event. If your child is very young then it would be best if you have the birthday party during the day, that way you will be able to see off all the guests before it is time to put your child to bed. Classic party rentals all give you the option of sending out cards that are made especially for you. Just Imagine how cute will it would be to send invitation cards that go with the theme, when you send them out to invite your friends and family. You can make your child's birthday a very memorable event you just need to pick the right party rental for yourself. It is a good way to organize a surprise birthday as well since your child would never see you in the party items section of the supermarket.
Contact BeDazzle My Events today at (949) 566-4543 for more details on classic party rental in Orange County!