A Sizzling Night Club Experience for Your Party
Modern style indoor and outdoor parties often use lounge furniture in the décor. If you're planning for such an event, consult your organizer, whether he/she is a full- service event planner or a professional who only assists in choosing the venue and vendors to coordinate the event. What should you know about lounge furniture rentals?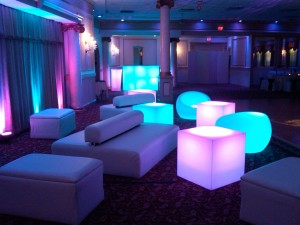 Lounge furniture décor is actually the hottest new party idea. More than creating a cozy and amiable atmosphere, you can transform your party into a sizzling night club or user cool experience your guests will surely love. The occasion goes beyond the ordinary because groupings in the fete can create intimate conversations. You can choose to rent separate but combinable pieces of lounge furniture. Ten- seater couches can be playfully arranged in as many shapes as you can think of. Another sectional set of sofas can be U- shaped seating arrangements accommodating 15 people or more. How about a VIP pit? Incorporate complementary curved serpentine sofas and benches to create the hub, or maybe an S- shaped bench for a nifty nook throughout the event.
For comfortable and unique seating and lively conversation areas, group large round ottomans of 4 pieces each. Incorporate coordinated upholstered benches, block chairs, cubes and cylinders and benches to design the hippest lounge party.
Drape Partitions for VIP Pits
Other than lounge furniture, the theme needs accompanying party rentals such as pipe and drape systems. Drape partitions create a more private and inviting space especially for VIP pits. Add in color wash to the drape where ultra-cool blue transforms to steamy Miami club pink. Throw pillows on the sofas can come in a variety of colors, patterns and textures. Dress up or dress down according to your preference. Ask the supplier about fabric treatments on the seating. Works magic by bringing hundreds of different color combinations. Your event is sure to look HOT and absolutely unique!
Pull the entire "lounge look" together by adding key décor accents. Give your party an exclusive club atmosphere by placing illuminated bars in scenic areas around the room. Don't settle for blah 8" ordinary banquet tables. Transform them to bar height and surround with bar stools and the place becomes an interesting alternative seating lounge. Illuminated floral arrangements are the wacky finishing touches to complete the greatest and latest lounge club décor for your party.
Lounge Furniture Rentals Cost
Rates vary if you rent lounge furniture. Couches, ottomans and outdoor beds are rented out for $50 to $200. Square ottomans pushed together or placed separately is priced $55 to $65 for rent, while square beds, in lieu of cocktail chairs cost $70- $85. Round beds for your lounge décor party is rented at $195 per piece.
You can always add your suggestions as you consult your organizer about the best lounge décor and arrangement for your party. Always take into consideration the budget and what suits the space or venue.  If you're from the area, ask your organizer about lounge furniture Los Angeles for a supplier where you can get the best value for your money.