Be Dazzle My Events, the company and tent rentals in Rancho Cucamonga
Be Dazzle My Events established in 1990 with the aim for providing tent rental services in Rancho Cucamonga provides tent rental services for various events including fundraiser, wedding, conference, birthday and corporate event and for festivals.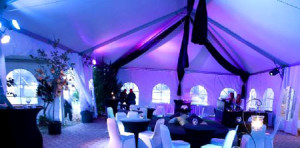 We have a complete variety of Tents matching your needs and demands!
We have a wide experience in providing tent services based on our experiences we have developed the best variety of tents with different styles and designs. We provide all sorts of tents including pole tents, canopy tents, high peak tents clear top tents. In addition to above, we have the experts for customizing your tent requirements for your corporate events, weddings, birthdays, bar/bat mitzvahs, family reunions etc.
Our team of well trained events professionals is ready to provide you the tent service!
We have team of highly trained and skilled workforce always ready to provide you the best tent service even with a short notice. We are customer friendly company and we provide quality tent services at very affordable rates. We guarantee in providing you quality items for your events no matter how large or small it might be.
Our Tent rentals in Rancho Cucamonga
For varying customer needs, we have specially designed tents. Some of the tents and their uses are explained below:
Frame tent: We have Frame tents for covering large space for food service dining, dancing, trade show exhibits, and graduations or for other similar gatherings requiring great number of guests.
Another option for large gatherings is a high peak frame tent which offers an open area with higher ceiling accommodating more guests.
For bring the nice outdoor into your event as backdrop, we suggest you Clear Top Frame Tents.
Pole Tent offers great traditional and are suitable for backyard parties, weddings, corporate events.
We have a large variety of Sail Cloth Tent of varying sizes and colors offering a great striking look. We have the new classic Tidewater Sail Cloth Tents variety that you may not find at other places.
Festive tents in striped colors are ideal for fair, trade show, carnival, sports event, retail sale and car dealership promotion.
For great customer feedback, we are increasing our inventory!
We are maintaining a tradition of excellence and we are increasing our inventory rapidly for best customer support. We are well prepared for your orders and our team will suggest you the best options keeping in view your budget and space for tents.
Be Dazzle My Events
For placing orders, please call us or visit our website!
We have a help desk ready to give you instant solutions for your tent problems and will guide you our different tent packages. You may call us on (909) 263-3533 or (949) 566-4543 or you may visit our website at www.BeDazzleMyEvents.com
We are the largest in town!
Be Dazzle My Events is large company having large variety of tents for rentals with offices spread all over Rancho Cucamonga.