Whenever people are planning party they want the best of venue to have their event. For this many people rent a venue and pick up the best rentals to make their party look elegant. But sometimes, we don't have to go out and spend money on a venue when we can do it at home premises itself.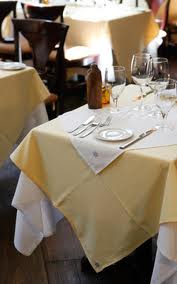 There are few things you must keep in mind to make a place look well turned-out. Firstly if it's a party for a goof number of guests you would need to set up a refreshments and food table so that your guests can help themselves. Moreover, you can see your guests standing and mingling just by the refreshment table because they are more comfortable bonding while standing up.Thus you want to make your table look their best. Even the use of the table linen keeps the table neat and clean. BeDazzle My Events is one of the largest and best providers of table linens in Rancho Cucamonga. We offer a number of options of table linens to choose from wide range of colors and materials.
BeDazzle My Events, providing table linens in Rancho Cucamonga can help you with setting the table linens perfect for any event. The right kind of table linen will keep you home tables or rented tables clean and perfect. Putting up printed and short table linens indicates you are having a children's party. Small kids make a lot mess usually and you'll want them to enjoy the lovely and varying colors of the table linen. For a more formal event, you put long tables with long linens to give it a classier look. For weddingswe usually go in for white table linen giving it more elegance.
We have a huge variety of table linens in Rancho Cucamonga available in different materials as per your budget! We have specialty linen like crushed satin available in different colors which include black, burgundy, champagne, Fuchsia Pink, Gold, Ivory, Moss Green, White, Silver, and Teal. Another fine material is Damask available in pink-black, lime-green, white-swirl, brown, white, burgundy, eggplant-purple, yellow, and silver-black. Floral sequence work is also available for table linens which come in silver, white and champagne gold. Another style is Iridescent Crushed Satin available in pink lime, purple green, orange and teal. We have Pintuck and Pinwheel finish linen as well available in neutral gold, ocean blue, orange, white, chocolate, blueberry, plum etc. Other linens include Rosette, Ribbon and Solid Color Linens. With almost 90 different shades and textures to choose form, we guarantee you can find your perfect piece!
So look no further and give us a call to help you add grace and elegance to your next event. For viewing different colorsand designs available in table linens in Rancho Cucamonga, please visit our showroom.Please call us at (909) 263-3533 or (949) 566-4543to place your orders or check out our website www.BeDazzleMyEvents.comfor picture gallery and other details.