Have you often wondered what that big fancy plate is for when you have eaten at a restaurant? All the items on the table are used to eat something one way or the other, but that big plate seems to be unused almost every time; so why is it there? Very few people know that charger plates in Orange County are not supposed to be used for eating. We are going to put the suspense, about charger plates, to rest by telling you all that you need to know about them. The main purpose of these plates is to make a dinner table look elegant. During most of the meal, the actual plate on which you would have your food is placed on top of these charger plates and the charger plate is removed just before desert.  You are not supposed to eat in these plates to make sure that you do not start to put salad in it when the appetizers are served.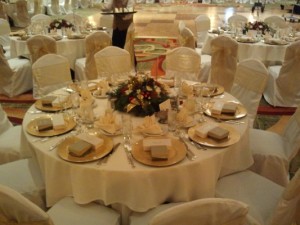 Charger plates in Orange County comes in a variety of shapes and sizes. Generally these plates are larger in size as compared to normal dinner plates. That is because the dinner plate has to go into these chargers plates in Orange County. In the old days these plates were often round, but with the passage of time these plates have evolved into much fancier plates. Not all of these plates are round like they used to be, you can find charger plates in Orange County that are square as well. Since no food is served in these plates, they can also have motifs and beads on them. The come in different colors as well, you can pick different colors according to your theme. You can find charger plates that are made from china, clay and wood. Sometimes charger plates in Orange County are even made of glass. You should be careful, since most of these materials used to decorate charger plates in Orange County might be toxic. Be sure that you do not eat in them, especially if they have fancy designs on top of.
Now, since charger plates are not used in homes because they are too much of a hassle to keep around the house, what do you do in case you need them? The solution to this problem is that you call in a party rental like ours and rent them for your event. These plates are often used at wedding ceremonies and other formal events, and this is why you are likely to find them with catering servers than with other people. Of course, since they are decoration items, they are expensive to buy. Renting charger plates in Orange County is cheap, and this is a popular choice made by newlywed couples; they rent charger plates for their events instead of purchasing new ones from the market. After all, they are only needed for one day. To get more information or to purchase charger plates in Orange County, contact BeDazzle My Events at (949) 566-4543.