You'll want the venue of your special event to be a perfect place for celebration. Are you planning to hold an outdoor wedding party? Here are some tips about setting up outdoor tents: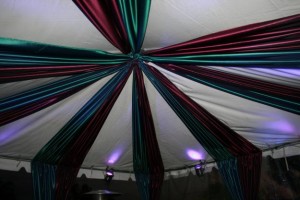 An outdoor wedding is a refreshing theme for a party as long as you ask your event planner to coordinate well with other vendors to make the venue comfortable and pleasing. Outdoor tents let you plan for the occasion without worries of bothersome weather or element conditions. Any presentable venue can be converted into a beautiful place to hold a ceremony and reception, whether a sandy beach, a botanical garden or your backyard.
Depending on the type of party and the number of guests, you may have to hire a party planner to organize the preparations. Among the other vendors your planner has to work with are party rental and tent rental suppliers. After setting the date of your wedding, contact the vendors. Tent rental suppliers are full service providers, renting out everything that goes with party tents- chairs, tables, linens and place settings along with lighting, generators, flooring, heating and air- conditioning units and portable restrooms. Browse through the site of the vendor, you can typically look at the portfolios and photographs of previous events and designs.  Otherwise, visit their showroom where you can actually see the samples.
When you have decided on the location, the vendors schedule a site inspection preferably six months in advance. The technicians view the grounds to determine where the best place is to install the tents. A timeline is then verified for the delivery and installation of the equipment.
If you're from Orange County, ask tent rentals Orange County about the 3 major tent styles:
The classic push- pole tent- a fabric roof material is stretched over center poles lined straight but is sloped to become a shorter set of support poles. The frame and structure of the poles result to the tent having a sculpted exterior making it a favorite for wedding parties. A pole or tension tent is suitable to accommodate a more extensive guest list. A push-pole tent has an attractive design, often with open sides and a billowy silhouette, while a tension tent is more exclusive being featured with windowed side walls and an open roof.
Frame tents that are as narrow as 10 feet are ideal for smaller sites. A framework of pipes within the ceiling (but concealed by a fabric) support the tent.
Your wedding party might include an open- air ceremony at the reception site. In this case, take precautions for bad weather- reserve a back- up tent. The tent venue for the ceremony doesn't need tables, only chairs, thus it can be smaller than the reception tent. If the wedding reception is set on a Saturday, the company typically confirms by Wednesday (based on forecast) if a back- up tent needs to be installed.
Designing your wedding party venue is more flexible using tents. Consult with your party planner about the best kinds of tents that complement the theme and décor of the occasion.